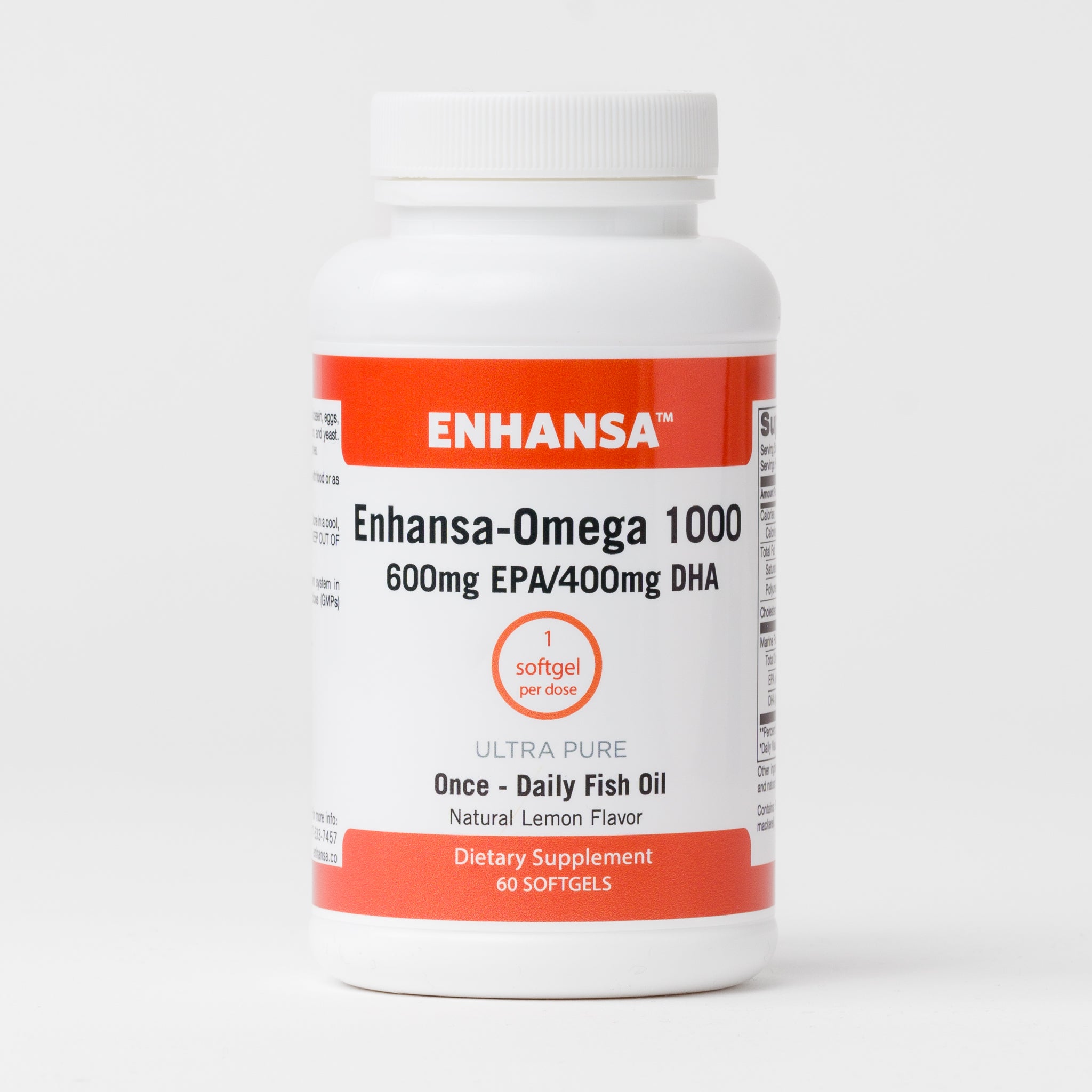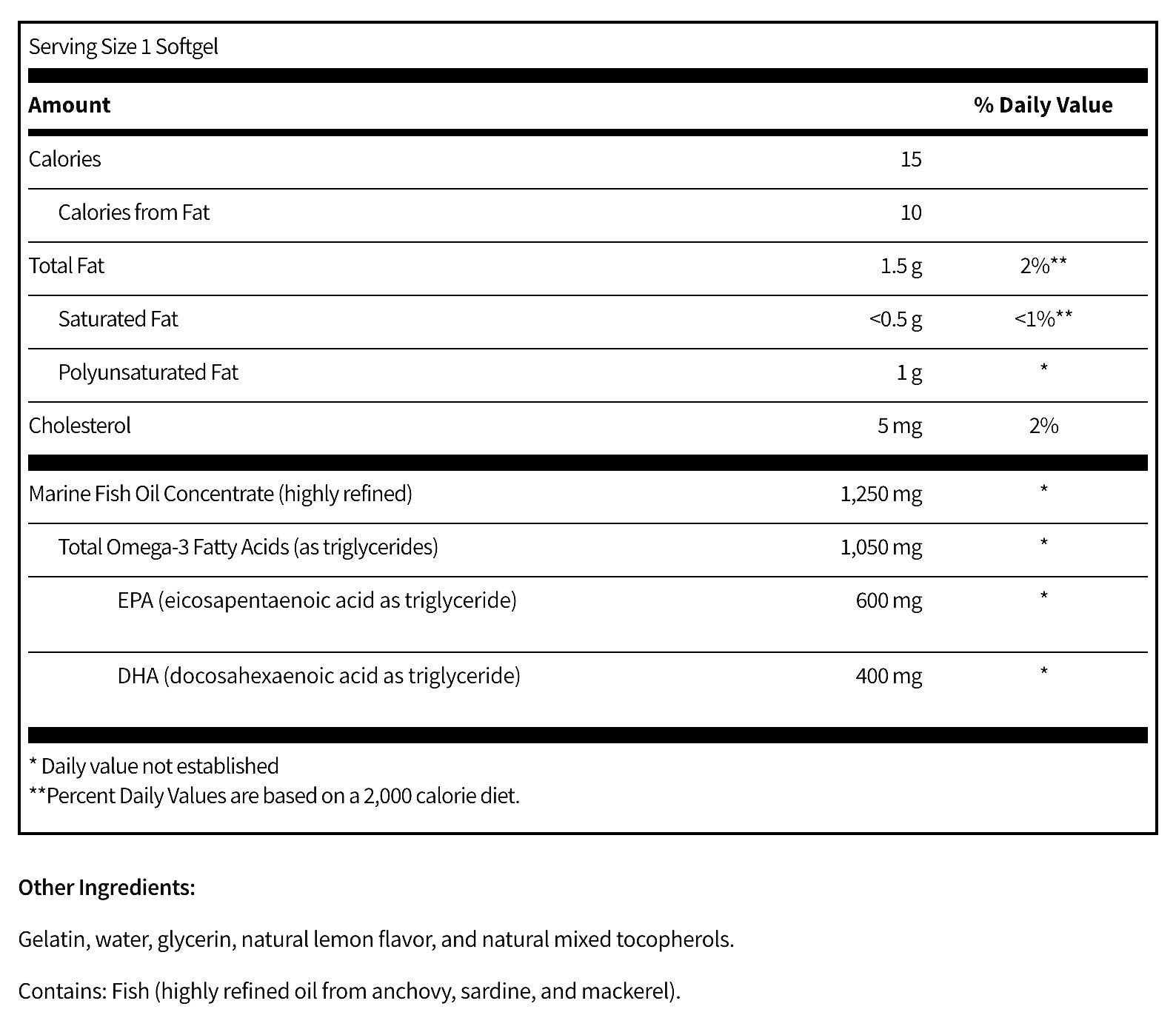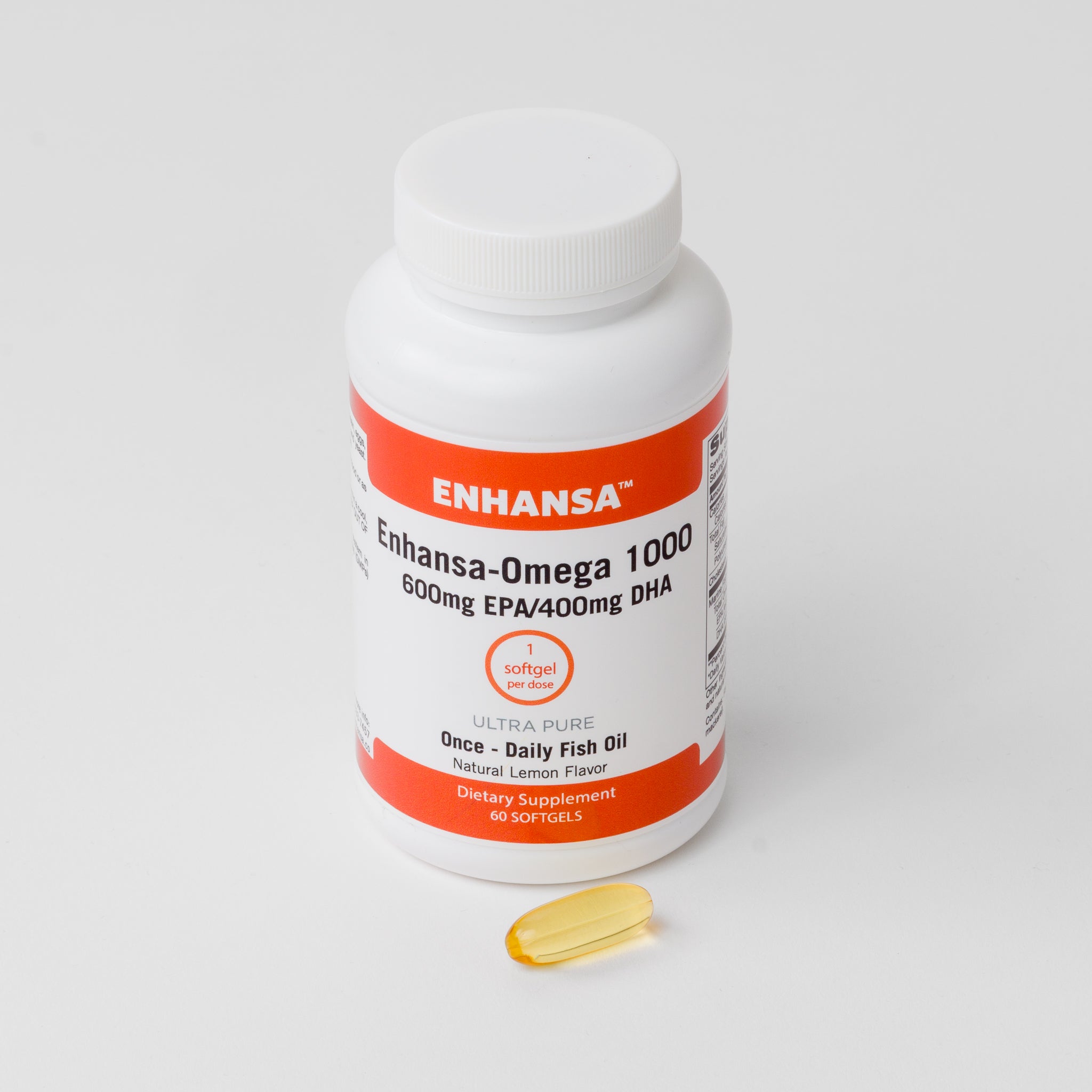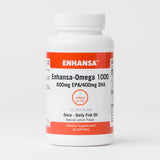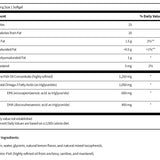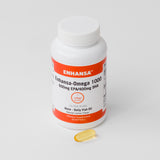 Enhansa-Omega 1000 Softgels
600mg EPA/400mg DHA per softgel

Supports heart, brain, immune, and joint health with one potent Omega-3 softgel daily.*
Also supports memory, mood, optimal circulation and healthy skin*
No fishy odors, aftertaste, or burps with Enhansa-Omega
Each batch undergoes third-party testing for over 250 environmental toxins.
Pristine quality fish oil, purified through molecular distillation, free from PCBs and heavy metals.
Description

Allergen Info

How To Use

Caution
Enhansa-Omega 1000: Your Daily Wellness Companion
Discover the benefits of Enhansa-Omega 1000, your daily support for overall health. In just one softgel a day, it promotes heart, brain, immune, and joint health, along with mood and skin support.* Say goodbye to fishy burps or aftertaste, thanks to our molecularly distilled formula.
Quality Assurance
We prioritize your well-being. Each batch undergoes third-party testing for environmental toxins, ensuring PCB and heavy metal-free, pristine quality fish oil.
Sustainable Sourcing
Our commitment extends to the environment with responsibly sourced fish from Friend of the Sea®-certified fisheries.
Omega-3 Essentials
Omega-3s are well-regarded for their contribution to heart and brain health, mood support, and more.
Delightful Lemon Flavor
Enhansa-Omega 1000 comes in a natural lemon flavor, making it both beneficial and enjoyable.
Omega-3 Daily Intake
For general health, experts suggest a daily intake of 500mg to 1600mg of EPA and DHA Omega-3s. Each softgel provides 1000mg a day.
Experience daily well-being with Enhansa-Omega 1000. Your path to a healthier life is a softgel away.
1 softgel, 1 to 2 times daily with food or as directed by a healthcare professional.
If you are pregnant, nursing, have a medical condition, or taking prescription drugs, consult your physician before using this product. KEEP OUT OF REACH OF CHILDREN.
Enhansa-Omega 1000 Softgels
The Many Benefits of Enhansa-Omega
Heart Health
Brain Health
Immune Support
Mood Support
Joint Health

Metabolic Support
Did you know?
Enhansa-Omega is made exclusively from 100% wild-caught anchovies, sardines, and mackerel.
Wild-caught fish are naturally low in saturated fats and rich in omega-3s from their algae and plankton diets.
Eco-Friendly: All fish are responsibly and sustainably harvested by Friend of the Sea®-certified fisheries.

Third-Party Tested

Dairy-free

Gluten-free

Corn-free

Nothing Artificial
Traceable Ingredients
Why take a fish oil supplement?
Many Americans don't get enough Omega-3s, which can impact our health. To stay healthy, experts suggest taking 500mg to 1600mg of EPA and DHA Omega-3s every day.
Enhansa-Omega 1000 provides 1000mg a day of EPA and DHA Omega-3s in one softgel.
Omega-3 fatty acids are often referred to as 'good fats' because of their many beneficial roles in supporting lifelong health.
Adequate levels of EPA & DHA
have been shown to support heart, brain, mood, skin, joints, immune health, and more.*